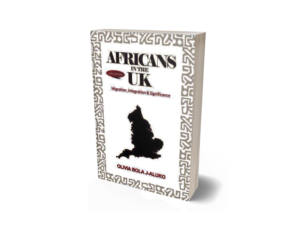 Africans In The UK
This extant edition concentrates on two topics, such as the history of black Africans, and immigration. No doubt, these subjects will be of perennial interest to students, intellectuals, policy makers, historians and the general public. The interlocutors of these concepts have often provoked controversies and contentious arguments which cannot be studied in one volume, but several.  Race and immigration have become one of the most provocative debates in recent times, as witnessed by the recent Brexit campaign.
The subject of race revealed how the colour of the skin placed limitations on people in the 19th century. Since racial attitude were directed at 'people of colour' it is important to examine who these groups of people were and where they originated from-'Black People'. The term black people refers to a human group whose skin colour are perceived to be dark-skinned. 3.  It also served as an identity for black people of African origin and South Asia.  In the UK, black is also used as a terminology to describe people who are of non-white descent.  This description has undergone various changes since the 1950's.
The 2001 census was the first to classify people into ethnic groups.  Black Minority and Ethnic (BME) and Black Asian and Minority Ethnic groups. (BAME). BME groups are now
used to describe people from Africa, Caribbean and their descendants who may be the third or fourth generation Black British.
The black African group is diverse with different official languages spoken according to their colonial routes. Black Africans from French-speaking countries speak French, while those from the English speaking countries speak English. There are about 26 French-speaking countries in Africa and about 23 countries that speak English.
In this study, we would refer to black Africans and Black Minority Ethnic, (BME) interchangeably. In its early days, the term 'black' 'black African' and 'Africa' was equated with something inferior, and so were dealt with harshly by many of the European slave masters. Through scientific racism, the Europeans were able to justify slave trade. This occurs when the theories of science are employed to support or justify racism, or racial superiority.  For example, it was said that the African brain was inferior to that of the white brain.  While these theories were dismissed, these unspoken believe still pervades the way some white men still view black people up till date.  Being clear about the construction of racism is important. Racism according to the Oxford dictionary is defined as a bias, discrimination or antagonism directed against someone of a different race based on the belief that one's race is superior.'
Racist attitudes towards black people was a grave concern during the 19th century. Black people were seen as apes and were treated as properties. As a result of this, their hard work, innovation, and education were not remunerated because of the belief that slaves were not allowed to own anything.  Thus, the Europeans continued to devalue anything that was African. For example, their mannerisms, religion, accent, language, and culture were scorned.   
In schools, for example,  some school teachers have been said to exclude children's names during registration periods because they struggled to pronounce their names. Some Africans notably Nigerians have been known to change their native names to an English one, to assist them in obtaining employment.